My Commitment
My ministry (and this website) is committed to the glory of Jesus Christ and to the expansion of His Kingdom. The resources provided on this website (most of which are at no cost) are for the saving of souls and for the enrichment of believer's walk with the Lord Jesus. Any paid resources are for the outreach and the maintenance of this website. My joy in life is to bring others closer to God through His Word and help them walk in Jesus footsteps day by day.

Mission & Purpose
Why this website?
For over the past 15 years, I have served as a both a layman preacher and as a Baptist pastor in the Chattanooga and north Georgia area. My greatest desire and joy in serving my Lord Jesus Christ is to preach and to teach God's word so that people might come to a saving knowledge of Jesus Christ and walk daily with Him.
The intent of this blog is to share various aspects of my personal life and ministry, along with inspiration, helpful tips, and resources to benefit pastors and ministry leaders everywhere, but particularly pastors of small churches and bivocational pastors.
Recommendation

Ronnie Brown is a passionate, Spirit-filled preacher of the Word of God. Every message I've ever heard him deliver was infused with careful thought and full of truth.
Recommendation

I find Bro Ronnie Brown to be:
1. A faithful student of God's Word
2. A fervent sermonizer of same Word
3. A formidable safeguard of the Flock of Christ
4. A fierce succorer of the defense of the Gospel
5. A friend and servant to Pastors, Evangelists, Missionaries and all Preachers
Recommendation

During the years I have known Bro. Ronnie Brown, I have had the privilege to witness his consistent integrity, and unswerving love for Christ and his church. His actions, pastoral care, and uncompromising stand on truth within the word of God reveal the evidence of a life above reproach.
Recommendation
Ronnie Brown is a passionate and dynamic Preacher! I have known him for almost a decade. "He is a preaching machine." Ronnie has such a great love for Christ and for others to know the Christ he knows. Well versed and studied in the scriptures, he simply is a blessing and benefit to those who know him.
Recommendation

Ronnie Brown is a creative, passionate, and faithful Bible preacher. Every time I have listened to him preach I have been challenged spiritually, and walked away wanting to be a better preacher myself. I appreciate his ministry even more because I have known him personally for many years, and I know his sincerity and authenticity. He is "…an Israelite in whom there is no guile." I give thanks to God for his ministry!
Recommendation

I have known pastor Ronnie Brown for 16 years now. Brother Ronnie has had a heartbeat for people, and the gospel, the entire time I have known him. The first time I heard Ronnie preach was in a Sunday School class he was teaching at Temple Baptist in Chattanooga,  Tennessee. It wasn't your, "Normal class!" It was CHURCH!! Ronnie and I have also had the opportunity to work together in Chicago at The Pacific Garden Mission and in Dulce, New Mexico ministering to the Jicarilla Indian Tribe. I highly recommend Pastor Ronnie Brown for any type of preaching opportunity you may need him for: Missions, Revival, Jubilee,  Camp-meeting, Bible Conference's, etc…He will be a blessing and a help to your church!
Recommendation

Pastor Ronnie Brown preaches with a sincere compassion for souls and a deep knowledge of God's word. His preaching and pulpit presence has always been one that brings about Holy Ghost conviction to the sinner as well as instruction and encouragement to the saints. I praise God for his ministry and enthusiasm as he serves the Lord day in and day out.
Upcoming Events
So that you don't miss out on all our upcoming events, be sure to check out our event calendar! Join us and be the first to hear about our updates!
The Exceptions of Jesus Book Reviews

Anything that Pastor Ronnie Brown writes is filled with wisdom and clarity. He is one preacher who stays true to the eternal Word of God and has a God-given ability to put the truths of the Word on the bottom shelf so anyone can understand them. He uses alliteration in such a way in his outlines to help you retain the great truths he is expounding. No one will be disappointed in reading what Pastor Ronnie Brown writes.
The Exceptions of Jesus Book Reviews

The Exceptions of Jesus is an excellent book. Ronnie Brown has taken some key passages of Scripture and opened them up brilliantly. This series of messages has been well outlined and alliterated. Thorough study has gone into each of these messages. You will be greatly blessed and helped by these key messages.
The Exceptions of Jesus Book Reviews

Pastor Ronnie Brown does a wonderful job of exploring a word from the lips of Jesus that we might overlook, if we are not careful. The word "except" binds these messages together, but each chapter is a thorough study of a different text and a valuable insight into the teachings of our Lord on a number of different subjects. This book is a gospel-saturated exposition of some very important passages of Scripture."
How Can I Help You?
Below are some of the way that I may be able to assist you.
Evangelistic Services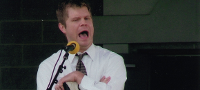 For over a decade, I have given myself to the preaching of the gospel of Christ in churches, open air venues, rescue missions and jails. Reaching the lost through the preaching of the Christ is my passion.
Revival Services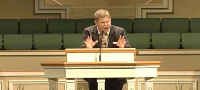 Our churches are in desperate need of heaven sent revival. There have been a number of occasions where God has allowed me the privileged of preaching special revival services.
Web-Design Services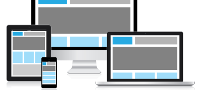 Church web design is a must these days and it is now easier than ever to have and maintain one. I have been doing web design for over 10 years and have worked with pastors, evangelists, missionaries, and churches to give them a web presence.
Podcasting Services
Podcasting is becoming more and more the most effective we to get your message out to the world. I have been putting the audio of my sermons on the web since 2004 and podcasting not long after that. I have the experience and know-how to get your message out to a wide audience and can teach you to do the same.
Coaching Services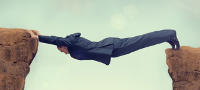 Are you maxed out? Need a little help? I love preachers, pastors, teacher, and people that just want to serve God. I don't know everything, but I have learned a few things along the journey. Need some encouragement, some direction, or some accountability? I can help.
Drop Me a Line!
Got a question? Have a suggestion? Want to know more?
Fill out the contact form below and I'll get back in touch with you as soon as possible.